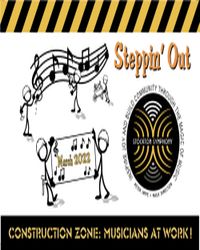 Steppin' Out
When
Occurs on Tuesday March 1 2022
Approximate running time: 2 hours
Venue
Event Notes
×
When you register and purchase, you'll get access to the preparatory audio clips, and the video of the concert will be available for you to stream into your own classroom during the entire month of March! The Steppin' Out Times and Teacher's Guide are available on our website free of charge. Visit www.stocktonsymphony.org/steppin-out for more information
A password protected link to the full Steppin' Out program will be mailed to your teacher or student on March 1 and available for viewing until May 31, 2022
To view your video, please follow the steps below:
1: Login to your account using the ticket portal at tickets.stocktonsymphony.org.
2: Upon reaching your ticket home page, you will notice a button inside of a box marked "View Live Tickets". Click that box to take you to your event.
3: Once you click that box, it will take you to your event page for the Steppin Out video. You will click the orange "WATCH" button to access your event. 4: You will be prompted to enter a password. 5: Enter the password "SteppinOutRocks!" to enjoy your event!